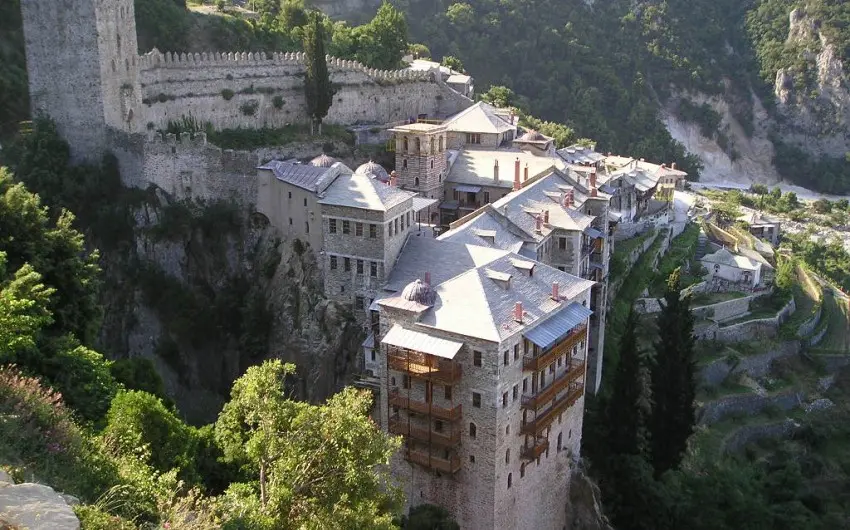 Geography
The third and eastern peninsula of Halkidiki, Athos peninsula, belongs to the monastic community of Mount Athos.It is the only place in Greece which is dedicated to prayer and God's adoration. That's why we call it The Holy Mountain.
The peninsula is 50km long and 8-12km wide and it's about 350 square km big.
The borders of the monastic community are conceivable limited by a line started from the "Fragokastro" on the west coast and ends to the cape "Arapis" on the east coast.
The natural landscapes of the peninsula are remarkable. Mount Athos which is dominate in the centre of the peninsula is a huge cone of 2033m height. It's naked top is like a spear to the sky and it's slopes, covered with everliving trees, create an incomparable beauty in this enchanting place.
Policy
Mount Athos is a self-administrative part of Greece which belongs politically to the Greek Foreign Office and religionally to the Patriarchate of Constantinoupolis. Capital of the monastic community is Karyes where all the authorities are.
It is separated in 20 smaller self-administrative areas, each one of them has a central monastery and a variety of monastic settlings around it.
All the monasteries are convent which means they have everything in common(prayer,home,food and work between the monks).
The entrance to Mount Athos is forbidden for women and every man who wants ti visit the monastic community must have a permission from the authorities.
To aproach the monasteries you go by the sea with boats from Ouranoupoli. Also, there are some touristic boats doing tours to Mount Athos but it's not allowed to aproach the coast.