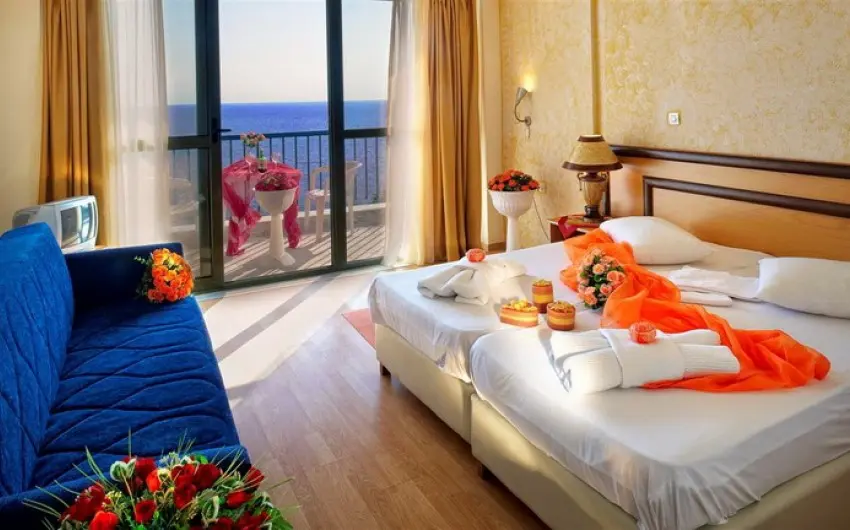 Only five km SE of Nea Skioni is the settlement of Loutra. The settlement has taken its name by the thermal springs which are famous for their therapeutic attributes. The sand, the rocks, the pinetrees and the sea are composing a unique picture.
From the bottom of the earth, thermal water springs for centuries to relieve human from pain.
In Agia Paraskevi village, there is a ultramodern SRA, that is famous for his infrequent therapeutic attributes and is apply to all ages.
With swimming-pools, saunas, hamam, hydromassage, individually and bodily it offers treatment and invigoration for the modern person which works, it is permanently moved in fast time.
With base the correspondence that had the team of study with the
Institute of Mineralogist and Fraimbourk Germany, for the exploitation of sources in Agia Paraskevi, it is confirmed that the water of sources is special for the following diseases:
Diseases of bones and articulations – initiating
Dermal diseases
Ourological and gynecological diseases
FACILITIES
Inside pool
Outside pool
Rooms Bar
Individual bath tabs
Hydromassage
Sauna Hamam
Medical support
Relaxation massage
Physiotherapy
Water Secification
Midle warm CI Na-K Br Hs-B As-CO2
MIneral – Supertonic
Normal water Tempeture 37,5-39 Co
Information:
tel: +30 23740 71358 & 71810
fax: +30 23740 61439
email: dimos@pallini.gr