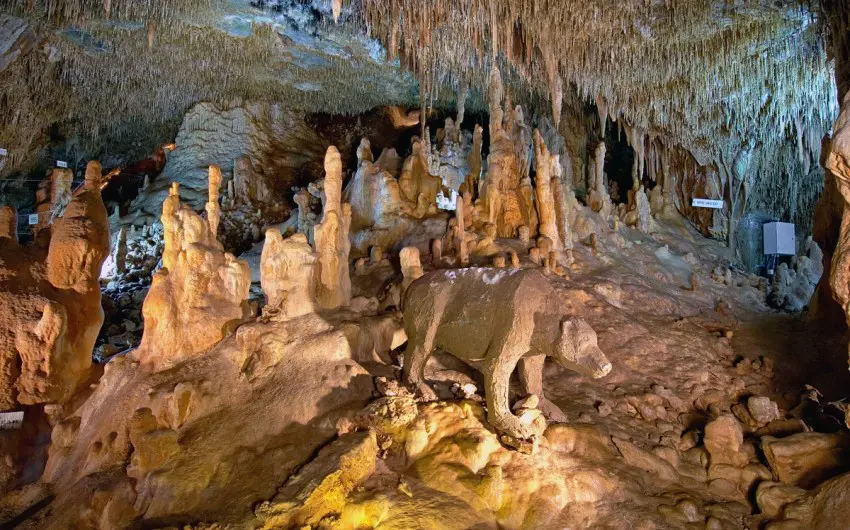 The amazing cave of Petralona is located in the west foot of the Katsika (Goat) mountain and in an altitude of about 300 meters from the level of sea.
It was found in 1959 by the inhabitant of Petralona, Mr. Philippos Hatzaridis and it became well known all over the world in 1960, when the skull of Arhanthropos was found by another inhabitant of Petralona, Mr. Christos Sarrigiannidis.
It belongs to a 30-35 year old male,very old for his time considering that the average was not more than 25 years. The systematic excavations of the Cave began in 1965 by the founder of the Anthropologic Company of Greece, anthropologist professor Aris Poulianos.
His researches proved that the Arhanthropos is about 700.000 years old, and this makes him the "oldest" European. This age was determined after the detailed analysis of stratigraphy (until today 28 geological layer have been revealed), and after studying the primitive and Paleolithic tools as well as the palaiofauna that were discovered in almost all the layers.
Among the fossils of animals that have extinct the following are included: lions, hyenas, bears, panthers, elephants, rhinoceros, megakeroi, bison and various species of deer and hippo, and also 25 species of birds, 16 species of rodents and 17 species of bats. In the Museum which is next to the cave you can admire all these findings as well as the fire traces found into the Mausoleum,the place where the Arhanthropos was found.
In order to verify the age, the contribution of nucleonic is very important. The materials that have been dated are bones, argil, stalagmites and ashes. These are fire traces – the oldest ones that human have ever lighted. It is worth to say that the soul of the Petralona cave,mr Aris Poulianos,distinguished anthropologist,has been attacked with negative critisism from time to time by the international scientific community because he managed to prove that human had his first steps in the greek area.
Thanks to his patience and his insistence all these founds came to the light and we are expecting the continuation of the excavation because they have excavated only the first thousand metres.
WORKING HOURS -GENERAL INFORMATION
The entrance is allowed daily from 9 a.m. to one hour before the sunsets.
There is a priority line.
ATTENTION:
Taking pictures and video is not allowed, because the cave is a research place and because intense light (various lights, flash, e.t.c) can cause serious damage to the interior part of the cave (stalactite and stalagmite).
For further information please dial: +30+23730 71671.
( more informations http://www.aee.gr)