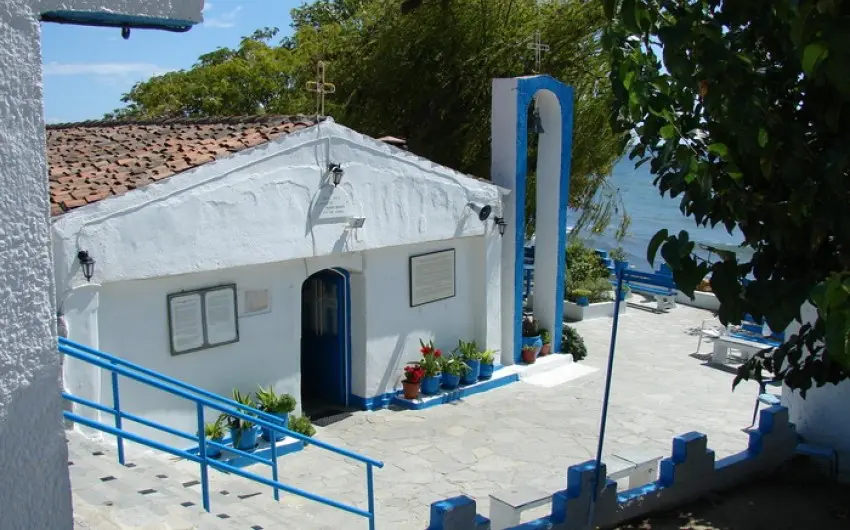 In a 2km distance from Nea Skioni, on the way to Loutra, there is the church of Panagia Faneromeni.
The tradition says that, in 16th century one of the villagers saw a light coming from the sea. He thought there were pirates so he run to the village to inform the villagers.
In the morning, when the light came closer, they saw that it was a big marble cube with the picture of Holy Mary on it, floating on the surface of the sea! The villagers impressed from that miracle so they asked the Turk who was in charge to let them built a church. He denied and steped on the marble. Then, the marble became soft and trapped the Turk's feet in it.
Then the Turk apologised and let the villagers to built the church. The villagers decide to built it on the hilltop so to be safe from the pirates but every night the church was been destroyed and the marble was next to the sea.So they built the church next to the sea where they found the marble.
The church belonged to a monastery in Thessalia but when Thessalia set free from the Turks on 1881 they gave it to the Theological School of Chalki. On the walls of the church you can still see the hagiographies of 16th century. The best parts are inside the sanctuary. The picture of Holy Mary is in its first position and if you want to see how big it is you can see behind the temple.
On the picture there are footsteps belonged to an ancient statue which base was that cube of marble.
The local tradition says that the picture cries every time something bad is going to happen. It's been said that the picture cried before World War II, before the Turkish invasion in Cyprus and recently when the issue with Skopia and their name arised.